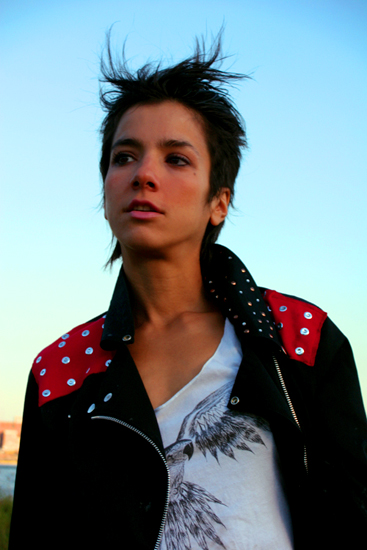 BIOGRAPHY
Lisa Alisa is a female artist, Tokyo based.
She is known for provocative images of young girls that bear a strong self-portrait resemblance. Alisa's work addresses issues of independence, youth, environment and natural conservation.
Through paintings Alisa exhibits her fascination with life as she knows it: nature, animals, music, sound, human behavior and interaction between different cultures.
The vibrant dynamics and color of her work and the coy but honest expression of her paintings, though fantastical, accurately mirror the artist's straightforwardness. Alisa is heavily inspired by nature – both it's magnificence and horror – and is constantly aware that it is the core of true beauty.
SELECTED EXHIBITIONS
2014
2013
Texas Contemporary Art Fair. Texas , USA

THE KPM COURTYARD PARTY, Konigliche Porzellan-Manufaktur Berlin. Berlin, Germany

"ULA", group exhibition, ULA Berlin gallery. Berlin, Germany

Amsterdam Fashion Week, F/W 2014

Rotterdam Designer Week, Project with Jonathan Christopher. Rotterdam, Netherlands
2012
2011
"Fascination", one person exhibition, Graphite Gallery. New York, USA
"Pray for Japan" fundraiser, Gallery Nucleus. CA, USA

Japan

Fundraiser, Graphite Gallery. New York, USA

Japan

Fundraiser, Le Basse Projects. Culver City, CA
2010
"Sweet Streets 2", group exhibition, Gallery Nucleus. CA, USA
"Qui Vive?" 2nd Young Art Biennale, Moscow Museum of Modern Art. Moscow, Russia
Design Festa vol. 32, Tokyo Big Sight. Tokyo, Japan
2009
One person exhibition, APW Gallery. Brooklyn, USA
Design Festa vol. 30, Tokyo Big Sight. Tokyo, Japan
White Box Gallery, Benefit Event, group show. New York, USA
Two person exhibition, Le Basse Projects. Culver City, CA
SCION tour group exhibition. Los Angeles, USA
2008
Design Festa vol. 28, Tokyo Big Sight. Tokyo, Japan

Geisai

Museum #2, Art Festival. Tokyo, Japan
"Inaugural" exhibition, T&P Fine Art Gallery. PA, USA
"MadL Citizens", Lift Gallery. MI, USA
"In The Language of Angeles", AdHocArt Gallery. NY, USA
"Familiar Friends", Projects Gallery. CA, USA
"Pop Subversion", AdHocArt Gallery. NY, USA
"A Low and Deadly Rumble", APT Gallery. NY, USA

2007
"Wishful Thinking", Projects Gallery. CA, USA
Design Festa vol.26, Tokyo Big Sight. Tokyo, Japan.
"The Tower of Music" Festival. London, UK
Design Festa vol. 25, Tokyo big Sight. Tokyo, Japan
2006
111 Minna Gallery. Los Angeles, CA
Design Festa vol.24, Tokyo Big Sight. Tokyo, Japan.
Design Festival, YDN. Eindhoven, Netherlands
"Pleasure Little Treasure", two person exhibition, Stay Gold Gallery. Brooklyn, NY
"Playground", one person exhibition, Magpie Gallery. San Diego, CA
"Portrait of the Artist" group exhibition, Shooting Gallery. San Francisco, CA
"Monkeys, Skulls, Girls and Guns" group exhibition, Project Gallery. Los Angeles, CA
2005
Kidrobot: The Munny Show. New York, NY
The Pony Project, Milk Gallery. NY, USA
Help The Bayo charity auction. NY, USA
"VICE" group exhibition, Projects Gallery. NY, USA
"Monster Show", Nucleus Gallery. CA, USA
"Flights of Fancy", The Art Complex Museum. Duxbury, MA
"The Girls Show", Nucleus Gallery. Los Angeles, CA
"All the Real Girls", 1988 Gallery. Los Angeles, CA
NYC Art Generation group exhibition. New York, NY
3rd Annual Erotic Show, Shooting Gallery. San Francisco, CA
BARC Shelter's 4th Annual Art Show. Brooklyn, NY
"Sugar & Spice", Projects Gallery. Los Angeles, CA
EROTICA group exhibition. Brighton, UK
"Young & Reckless", Apartment Gallery. Pittsburgh, PA
"Eye of the Beholder", Lab 101 Gallery. Culver City, CA
"Three Girls Show", Shooting Gallery. San Francisco, CA
2004
"Lies", Built Gallery. New York, NY
2nd Annual Erotic Show, Shooting Gallery. San Francisco, CA
One person exhibition, Niagara. New York, NY
PROJECTS:
Konigliche Porzellan-Manufaktur Berlin collaboration project: 300 Jahre Friedrich der Grosse celebration, Silke Couture collaboration project: Mercedes-Benz Fashion Week Berlin, Sony XPERIA NXT advertising campaign, EastSport Company advertising campaign, Hong Kong Bauhaus collaborative project, 686 Outwear Co: ACE project, Seven and True Religion project: Jeans as canvas, Greenpeace Italy: Whaleless project, SOLED OUT project, Start Mobile project, Kidrobot: the Munny Project, Hasbro The Pony Project